Welcome
Welcome to the Mechanical Contractors Association Hamilton Niagara!
MCAHN is an accredited bargaining agency with the Ontario Labour Relations Board and represents all Unionized Mechanical Contractors working in Hamilton, Niagara and surrounding areas.
The Mechanical Contractors Association Hamilton Niagara is a not-for-profit organization founded in 1966 to provide the following:
Union-Management Coordination/Representation
Joint Apprenticeship Administration
Education Programs
Scholarships
Government Liaison
Community Support
Social/Networking Opportunities
Conference Sponsorships
and much more!

Learn more about our association:
Information about The Mechanical Contractors Association Hamilton Niagara and how we work
Our full membership directory for The Mechanical Contractors Association Hamilton Niagara
Information about our Education and Scholarship and Application Form
Industry Links to other web sites
Information about our home at Construction House in Hamilton, Ontario Canada
Rachael Lolua

Association Manager

Pat Cimek

2023-Present President
MCAHN is proud to partner with The United Association Local 67
For 115 years, UA Local 67 have been part of the building of the residential, commercial and industrial infrastructure in the Hamilton, Halton, and Niagara regions. Their jurisdiction stretches from the Oakville border, down to Fort Erie, and south of Highway 401. The members of UA Local 67 are amongst the most highly trained men and women in the piping industry.
Learn why MCA Hamilton Niagara Contractors are 31% safer
The Union Safety Effect Report, prepared by the Institute of Work & Health, re-confirming findings that unionized construction work is safe work. In fact, building trades unions in Ontario's ICI construction sector are 31% safer when compared to non-union firms. Our members are proud of being a safety leader in Ontario's construction industry.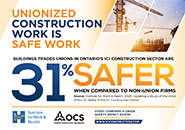 Unionized Contractors Are 31% Safer.